Up until now, the only way to add cloud voice to Office 365 when Calling Plans (Microsoft is the carrier, only available in a hand-full of countries) is not available or preferred, was by deploying the Cloud Connector Edition (CCE), which caused headaches across the board. The CCE with its dedicated hardware for each customer and rather complex and inflexible setup has been problematic for all carriers. On top of that, it doesn't scale-down very well for use by smaller customers. The CCE is still the best option for Skype for Business Online. But as we all know by now, Skype for Business Online will be replaced by Microsoft Teams in the near future, and this is when Direct Routing will come into play.   
What is Direct Routing?
Direct Routing is a solution to deliver PSTN telephony to Microsoft Teams regardless of geographical location. A customer can either use an existing carrier with whom they already have a good relationship. Or they can take the opportunity to try a new carrier that has embraced the future of cloud voice and can deliver telephony to Microsoft Teams with ease. 
Direct Routing can be set-up alongside an existing Skype for Business voice solution, whether it is Online with Cloud Connector Edition or Calling Plans, or Skype on-prem with PSTN connectivity.  
Calling in Teams uses the same logic and features already familiar to those using Skype for Business Online, known as Phone System. It includes basic call handling and call queues functionality, with new features continuously being added. What's new with Direct Routing is how PSTN is connected to Office 365.  
Instead of certifying each SIP-trunk provider out there, which was the case with Lync and Skype for Business Server, now the SBC's (Session Border Controller = PSTN gateway) are certified. At launch, there will be two SBC providers certified and supported for Direct Routing: Ribbon (f.k.a. Sonus) and Audiocodes.  
There are two options to set up Direct Routing: The first option is the "Enterprise model" with dedicated hardware (SBC), which is usually located at the customer's premises and paired to a single Office 365 tenant. This solution is pretty-well documented since it's been out for public preview since mid-May. An excellent blog post by MVP Ståle Hansen explaining the "Enterprise model" can be found here: https://msunified.net/2018/05/27/microsoft-teams-direct-routing-explained/ 
Then we have the "Carrier hosting model".   
What is the Carrier Hosting Model?
In the Carrier Hosting Model, a carrier of your choice hosts the Direct Routing SBC and handles the telephony services. The carrier's SBCs are paired with the carrier's Office 365 domain, the so-called base domain, and then tied to multiple Office 365 tenants through subdomains.  
Calls are not routed based on DID, but instead each customer gets a unique SBC FQDN as a subdomain to the carrier's base domain. But in the backend, it's the same SBC for all customers. That unique FQDN is then added as a domain in the customer's Office 365 tenant. This way Office 365 knows where to route the traffic and there is no need to have customer-specific certificates on the SBC: only a wildcard certificate covering the carrier's base domain is required.  
You only need to set-up this configuration once per tenant for every carrier-hosted SBC, and this will cover all sip-domains within that Office 365 tenant.  
Example: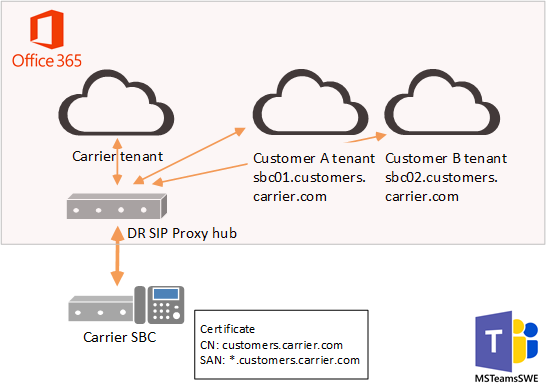 On the SBC side:
Connecting the SBC to Direct Routing SIP proxy in Azure is much like setting up a standard TLS SIP-trunk. The magic happens in the SIP invite, where the SBC adds the unique FQDN of each customer in the SIP invite contact field. This enables the DR SIP proxy to know which tenant to send the call to.  
The SBC must be configured with a public IP address and a FQDN. The public IP of the SBC then determines which of the three DR SIP proxy hubs to connect to: either Europe, North America or Asia. 
Licensing
A Microsoft or Office 365 E-plan with Phone System add-on is required, or an E5 which includes Phone System. The same applies for Audio Conferencing if you need to dial into a Teams' meeting. A subscription from your carrier is also needed and here you can find a good deal with any carrier of your choice. Flat rate, pay-as-you-go, toll-free, bundled with cell phone subscriptions or other services: here is your chance to be creative.  
Media bypass
Media bypass is not in this release, it will be added later. It is important for the carrier model because the users, Office 365 and SBC are in three different places and minimizing the distance between the users and the PSTN is desirable. 
It will require open media ports to SBC from entire Internet, but more about this will follow when it is released.  
Feel free to leave a comment below or shoot me a question on twitter @MartenHellebro  
Here you can read more about the carrier hosting setup: https://docs.microsoft.com/en-us/MicrosoftTeams/direct-routing-sbc-multiple-tenants  
Many thanks 
Marten Hellebro 
Lead Architect Cloud Voice at Cellip