I ran into a problem the other day when I had to change the configuration in one of our CCE – Cloud Connector Edition servers. The CCE was recently upgraded to version 2.1.0 and the problem was that I couldn't run the Register-CcAppliance command, it throws an error message saying:
"The property 'Commond' cannot be found on this object. Verify that the property exists."
A typo you might think – 'Commond', but oh no. ?
After troubleshooting this together with Microsoft Office 365 support we concluded that .NET Framework had to be updated from my version (4.5.1) to at least 4.5.2. And in my case version 4.6.1 was the winner.
To determine what version of .NET Framework you have installed, check the register under:
HKEY_LOCAL_MACHINE\SOFTWARE\Microsoft\NET Framework Setup\NDP\v4\Full
Where Release 378675 is .NET Framework 4.5.1.
More info about .NET Framework versions can be found here: https://docs.microsoft.com/en-us/dotnet/framework/migration-guide/how-to-determine-which-versions-are-installed#net_b
And look, .NET Framework 4.6.1 was already waiting for me as an optional Windows update ready to be downloaded and installed. So just fire away!
After a server reboot, the Register-CcAppliance runs like a charm.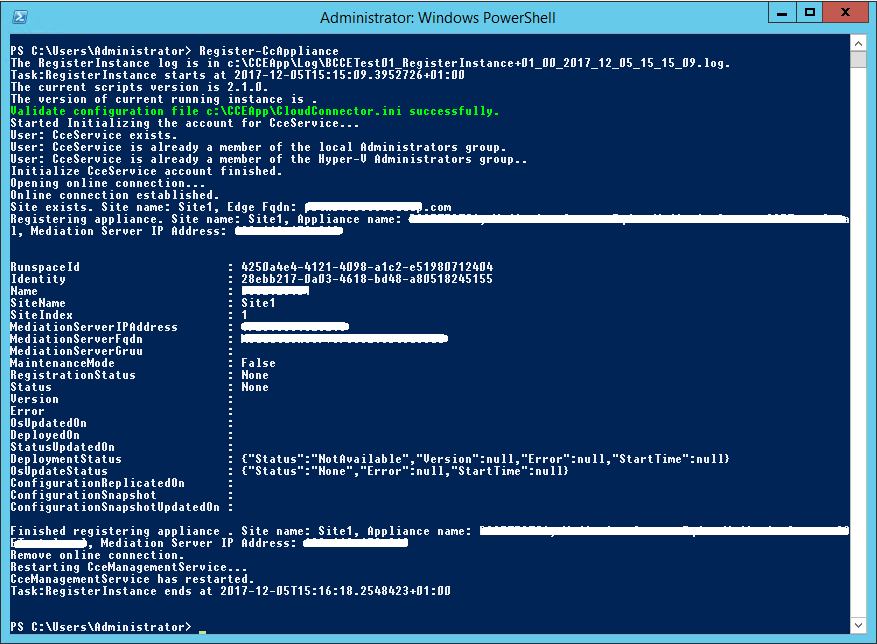 Simple as that. Enjoy! ?

Update: Technet article https://technet.microsoft.com/en-us/library/mt740649.aspx has now been updated to include:
For Cloud Connector version 2.1 and later, the host appliance must have .NET Framework 4.6.1 or later installed.