If you already have deployed the beta version of Microsoft 365 Learning Pathways (fka Custom Learning for Office 365), it is a good idea to update it to the GA (General Availability) version 3 that is out now.
Learning Pathways is a customizable training portal in SharePoint online with up to date training material provided by Microsoft. You can read more about it in this Ignite Live blog that I recently published: https://techcommunity.microsoft.com/t5/Microsoft-Teams-Events-Blog/Ignite-Live-Blog-BRK2165-Transform-end-user-training-using/ba-p/1001742 and: https://www.msteamsswe.se/learning-pathway-as-an-app-in-teams/
What have changed?
Content update, yes! Microsoft has delivered on its promise to provide updated content quarterly.
There are also some minor but yet welcome design improvements; for example, the Next and Previous buttons when navigating the playlists are now more obvious.
Ability to copy a playlist including the Microsoft-supplied playlist is also added, together with a very welcome new section for admins: "Admin Success Center" to help admins and site collection owners get the most out of learning pathways.
An annoying bug seems to have been fixed that made all the content disappear when toggling assets and features on and off – all good stuff in this release.
Update or clean install?
The recommended approach is to start fresh with the new version, but if you don't want to lose all your custom content and modifications you already have in the learning pathways, you can do a manual update.
It is always recommended to backup the current installation before proceeding with the update. This procedure is out of scoop for this blog post, but instructions can be found here: https://github.com/pnp/custom-learning-office-365/blob/master/webpart/BackupInstructions.md
Follow these steps to update learning pathways to the newest version
1. Download this file: https://github.com/pnp/custom-learning-office-365/blob/master/webpart/customlearning.sppkg
2. Open SharePoint Admin Center
3. In the new Admin center select More features – Apps and Open
In the Classic admin center select Apps
4. Click App Catalog
5. Click the "Distribute apps for SharePoint" icon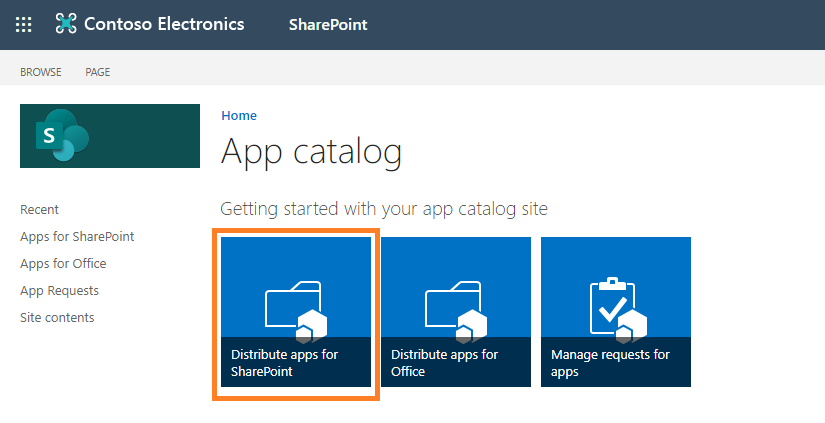 6. Verify version of installed Microsoft 365 learning pathways app, in this case 2.0.15.0
7. Mark the app and click Upload
8. Choose the downloaded customlearning.sppkg, click OK
9. Trust the Microsoft 365 learning pathways by clicking Deploy
10. Note the version number that should now have been updated to at least 3.0.1.0
11. Navigate to your learning pathways site and click the cogwheel at the top right and select Site contents
12. Locate the Microsoft 365 learning pathway app, right-click and select Details
13. Note the information: "There is a new version of this app…" Click on GET IT
14. To verify a successful update, select details once again and note the information: "Good news – you already have this on your site"
Done!
Congratulations, you have updated both the app and the site, and can now enjoy the updated version of learning pathways for all your end user training needs.
The official documentation can be found here: https://github.com/pnp/custom-learning-office-365/blob/master/README.md