With the recent release of custom background images or background effects as it is called in Microsoft Teams, I thought it would be a good time to share some tips and tricks to get the most out of this new, fun, and useful feature.
Combining some basic understanding of how lighting can work for you, with some common sense and knowledge of how video meetings work, you can improve the perception of the new background effects. The goal is not to deceive your meeting peers; the AI engine is not that good, just make it a little bit more fun by adding some realism to it. I hope you enjoy it.
Add a background image in a Teams meeting
First off, find the new backgrounds, when entering a Teams meeting, select the background effect button on the pre-join screen. 
Or, while in a Teams meeting select the … (more options) and Show background effects. 
Please note: Background effects are only available in the PC and MAC app of Microsoft Teams.
Don't find the background you are looking for?
Microsoft Teams has come with a set of curated background images. The first time you use the background effect in a Teams meeting, an upload folder is created. And that's when the fun begins. ?
Until Microsoft releases the ability to upload your own images directly from the Teams app (it's on the roadmap and are expected to be rolled out soon), the uploads folder is the key to the background kingdom. 
You can upload pretty much any JPG, PNG, or GIF to the Uploads folder and use it as a background image in your next Teams meeting.
Make sure you do not violate any copyright regulations when using other images then your own. 
Note: Unfortunately, animated gifs don't work; they appear animated in the selection panel, but when applied, they don't move. Too bad, but perhaps we'll see some moving backgrounds in the future. 
File path for PC:
C:\Users\<username>\AppData\Roaming\Microsoft\Teams\Backgrounds\Uploads\
File path for Mac:
\<username>\Library\Application Support\Microsoft\Teams\Backgrounds\Uploads\
Since the quality of the video stream is not super great, the resolution doesn't necessarily need to be very high, but it depends on the type of image. Typically a resolution around 1000 pixels is good enough.
Select a suitable background image
When selecting a suitable background, there are some things to consider to get the best effect;
Lighting conditions
What lighting conditions do you have? For example, light sources, windows, blinds, your monitor, color/temperature and direction of the light, all those things reflect the video image of you. 
And what lighting conditions can you create by adjusting one or more of the parameters?
The halo effect
The halo effect is what you can see around a person's head when the real background "bleeds" though, especially when wearing a headset or glasses. To minimize the halo effect and help the AI engine to differentiate you from the background, strive to have a plain background, wear clothes with a contrasting color from the background, and have good lighting.
There will "always" be some halo effect, to make it as unnoticed as possible, try to arrange your real background with a matching color as your background image. For example, if you have a bright background image, put a blank sheet behind you, so when the halo effect exposes a piece of your background it will be white, and it will not be so eye-catching. 
Finding the right image
Now that you know what lighting conditions you have and what impact the halo effect does, try to choose a background image that corresponds to those conditions. Or adapt to the conditions in your preferred image by using what you have at hand, an additional light source, a blank sheet or a dark-colored tablecloth to cover a messy background, or why not use a pair of sunglasses for your beach image?
Another important aspect is what you want to communicate with your appearance in the meeting, I'll leave that out of this blogpost, but it is something that you should consider.
Background resources
Links to a few background images collections, I take no responsibility for any copyright-protected material or rights to use any of the content on any of these sites: 
teamsbackground.net
backgroundsbyikea.com
pixabay.com/images/search/background
starwars.com/news/star-wars-backgrounds
A BRB image
Sometimes you need to step away from the call or do something else while remaining in front of the camera. Something you don't want to show the other meeting participants, then a Be-Right-Back image could come in handy.
A BRB image could be your favorite background but with some extra elements added to it, like a picture of yourself looking engaged. ?
The idea is that you cover yourself in the normal view with the video image of your real you, but when you step away, you reveal the image of you as a part of the background image. 
A second camera
With a second camera, you can easily "video-mute" yourself; for example, if you have a laptop with the lid closed, you can switch to that camera. Or install a software that will get you a virtual camera. With that camera, not pointing to you, will only show the background image, which is your BRB image. And you can easily switch between your cameras by clicking on your video preview in the bottom right-hand corner.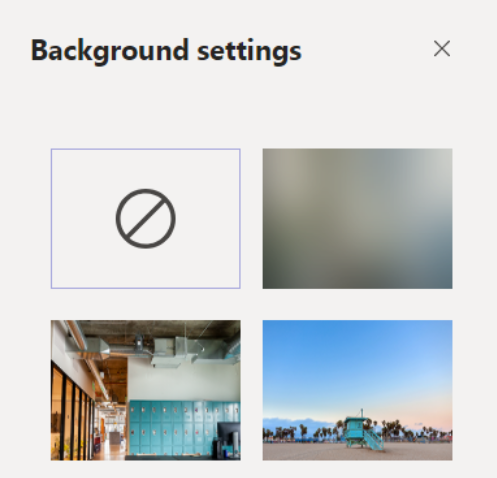 What about the blurred background, is that so 2019 these days?
The classic blurred background is still a good choice. Select the "grey" background, and you are good to go down the well-known blurry background road. 
Background effects in Teams Live events
Background effects in Teams Live events work the same way as in a Microsoft Teams meeting IF you are a presenter. If you have the producer role it is not possible to set a background image or blur the background. It might be something to consider when setting up a Teams Live event. 
Good-to-go!
Now, go ahead and make the best possible Teams meeting experience with a nice and almost deceiving background image, that will take your Teams meetings to the next level.